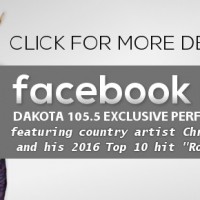 JANUARY 16th, 7pm CST
In the fall/winter of 2016, one song rose quickly on our Top 40 country music chart…
"Rodeo Kid" from Chris Thomas.
Chris Thomas will perform a ONE-HOUR LIVE EXCLUSIVE CONCERT for Dakota 105.5 Facebook followers. The live performance will feature Chris Thomas playing original songs and taking requests from those that tune-in. Fans and listeners can join the fun by going to the Dakota 105.5 Facebook page at 7pm on Monday, January 16th. There you will see a Facebook Live post started. Click on the box and comment with your song requests, and of course, Chris Thomas will also perform his single "Rodeo Kid".
For more on Chris Thomas, check out his Facebook page and watch past live performances.
https://www.facebook.com/CTColoradomusic
The song peaked at #4 during the last week of the 2016 Wrangler National Finals Rodeo, but the song meant much more to Dakota 105.5 listeners. One listener said, "I remember being that kid in every part of the song". Instantly, Dakota 105.5's Facebook, Twitter, and email started filling up with questions "Who sings that song". The answer was a young man from Colorado, a former rodeo bareback rider who had chance meeting with Dakota 105.5 program director Ward Hilger in the Black Hills last summer. Knowing that KMOM's audience enjoys the world and life of rodeo, the station felt they had to play the song for their listeners. On November 14th, "Rodeo Kid" cracked into the Top 20 chart based on airplay and requests.