A Decade of Dakota Broadcasting
This December Dakota Broadcasting will turn 10 years old. So instead of waiting until then to start the celebration we are going to celebrate for the next 10 months by bringing back some of our favorite promotions. These promotions include the Wheel of Meat, Prize Pickup Stops, Winning Combinations and more. 
How it Works
Each week of the promotion there will be a feature business where listeners will be directed to go sign up for the grand prize
At the end of each week a qualifier will be drawn from the featured business
Each week we will also broadcast live from the host locations and listeners can come play that promotions game to win additional prizes
At the end of each promotion the Grand Prize winner will be drawn and announced
The Promotions
Wheel of Meat – March 6th to April 30th

Grand Prize $500 worth of Meat from Ecconomy Meat Market and a Freezer from Sears

Deadwood Double – May 8th to July 2nd

2 Grand Prize winners- tickets, gas, and lodging to Days of 76 and Deadwood Jam

Fishing for a Win – July 10th to Sept 3rd

Trip for 4 to the Glacial Lakes area. Includes guide service from Wild West Outfitters with  lodging, ,and meals provided by Pickerel Lake Lodge

Patio Paradise – Sept 11th – Nov 5th

Win a patio makeover featuring $1,000 of curbing from Kwik Kerb.

Cash for Christmas –   Nov 13th – Dec 13th

$2,500 in cash in time for Christmas
CASH FOR CHRISTMAS- Stick it & Ticket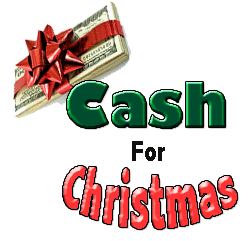 Dakota Broadcasting is wrapping up its Decade of Dakota Broadcasting Celebration by giving you, our loyal listeners, a chance at $2,500 in cash! This promotion is really simple. Grab one of our window stickers and make sure it's on your vehicle. Over the next weeks the Dakota Broadcasting team will be scouring the area looking for these stickers or folks wearing our shirts. If we see you, we'll ticket you with a loyal listener ticket. If you see us out at any of our live broadcasts, make sure you stop and show us your sticker so you can get a ticket there too. All you have to do is fill out the ticket and return it one of the other sponsors. Each sponsor location will have 1 qualifier drawn. The final drawing will be held live on air, December 27th. Thank you for being a loyal listener and Good Luck!!
Sponsors of Cash for Christmas:
Merxbauer's Dental Center
Aberdeen Regional Airport
Lang's TV Audio & Appliance
Prescription Ag
Top Notch Design & Counter Tops
Mark Mehlhoff Insurance
Aberdeen Dairy Queen
PATIO MAKEOVER- Prize Wheel
Week of September 11th – Prescription Agronomics-

Justin Davis 

Week of September 18th – Kuslers Sinclair –

Robin Kaml – Grand Prize Winner 

Week of September 25th – Bonus Online-

Erin Kolb 

ONLINE QUALIFIER –

John Shanner 

Week of October 2nd – Langs Audio TV & Appliance – Tammy Dallman 
Week of October 9th – The Dog Wash –

Arlis Clifford 

Week of October 16th  – Aberdeen Regional Airport-

Lynn Karrigan

ONLINE QUALIFIER- 

Jamie Forrest
FISHING FOR A WIN – Prize Pickup Stops 
Week of July 10th – Rohly's Bar –

Jeremy Hagen 

Week of July 17th – Aberdeen Mall –

Beth Smith 

Week of July 24th – Mark Mehloff Insurance – 

Melanie Larson

Week of July 31st – Lang's –

Jim Hook 

ONLINE WINNER – 

Casey Zoellner

Week of August 7th – Sear's Hometown Store

– Donna Etl- Grand Prize Winner
Week of August 14th – Top Notch Design & Counter-tops –

Karma Olson

Week of August 28th – Aberdeen Regional Airport –

Jeremy Karsteans

ONLINE WINNER – 

John Shaner
DEADWOOD DOUBLE – Prize Vault 
Week of May 15th- Salvation Army-

Bobbi Piasecky

Week of May 22nd – Lang's – John Stoebner – Grand Prize Winner #2 
Week of May 29th – 20 Volume (in strip mall west of Ken's)-

Carla Wendt

ONLINE QUALIFIER – Barb Hoops – Grand Prize Winner #1 
Week of June 5th – Sear's Hometown Store-

Patty Tracy 

Week of June 12th – Hitch N Post –

Lorrie Foster

Week of June 19th- Steven Lust Automotive-

Brent Deibert 

Week of June 26th- Hay Wire-

Keith Kenow

ONLINE QUALIFIER – 

Donna Etl
WHEEL OF MEAT QUALIFIERS
Week of March 6th- Dakota Broadcasting – Eric Mahnke – Grand Prize Winner Grand 
Week of March 13th – Mark Mehlhoff Insurance –

Janet Enstad

Week of March 20th – Langs –

Damian Bahr

Week of March 27th – Prescription Agronomics-

Ron Hoffer 

ONLINE QUALIFIER –

John Shaner 

BONUS ONLINE  –

Shelby Peterson

Week of April 10th – Sears Hometown Store-

George Etl

Week of April 17th – Norther State University –

Dawn Williams 

Week of April 24th – Economy Meat Market –

Richard Olson 

ONLINE QUALIFIER –

Mark Nelson