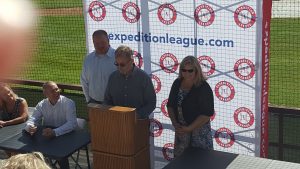 At a press conference held at Fossum Field Thursday, Aberdeen officials helped announced the formation of a new amateur baseball team in Aberdeen.  The team will play in the Expedition League beginning in May of 2018.
The Expedition League features nine teams in different communities across the North American Plains.  States represented include North Dakota, South Dakota, Nebraska, Wyoming and Manitoba Canada.  It is a summer collegiate wood bat league, which means players who participate will come from all over the country and require at least one year of college eligibility left to play.
The new Aberdeen team, which has not yet reveled its name or colors, is owned by Chuck Heeman who insists this brand of baseball is more than simply going out to Fossum Field for nine innings…
Team ownership not only stressed that this new baseball venture would be worthwhile family entertainment, but also a boon for baseball as a whole in Aberdeen.  Guy Trenhaile, l who is both on the Aberdeen Hardball Association board and Aberdeen Hockey board, said at the press conference Aberdeen Hockey has seen an increase in youth participation at 200 percent since the Aberdeen Wings came to town.  The Wings are a junior hockey team playing in the NAHL.
The league is meant to replicate minor league or major league baseball in its schedule, cramming 60 games into the span of about 63 days.  Heeman says this helps the players understand what they are entering when they get into the big leagues…
League commissioner and founder Steve Wagner was in Aberdeen to help with the announcement and said Aberdeen's rich history of baseball also makes it an ideal location for an Expedition League team…