WELCOME
Thank you for inquiring about Dakota Broadcasting. We pride ourselves in the fact that we take the time to learn about each of our client's business before recommending an advertising schedule or package. If you would like to learn more about how Dakota Broadcasting can help grow your business please contact
sales@dakotabroadcasting.com
or call
605-725-5551
 Take a quick look at the stations descriptions and coverage areas below. There are also some quick tips for your business or non-profit organization to get your message on the radio.
Our Stations:
Dakota 105.5 (KMOM)
Dakota 105.5 is a carefully blended mix of the greatest country hits from the 70's, 80's, 90's, and today. We strive to bring the most notable artists to our format like George Strait, Waylon Jennings, Reba McEntire, Chris LeDoux, Miranda Lambert, Jason Aldean, Eric Church and more. Listen to us live from anywhere in the world by logging onto our stream at www.dakotabroadcasting.com
On-air personalities are up-tempo and contemporary, with country lifestyle content and songs that appeal to the 18- to 34- and 25- to 54-year-old demographics
We're always keeping the local farmers up-to-date with 85 minutes of farm and ranch news & market reports daily from the Red River Farm Network and livestock reports from area sale barns. Dakota 105.5 supports and dedicates themselves to the ag producers and ag businesses of our region
Dakota 105.5 is also proud to cover high school football and basketball games from schools in the heartland of our region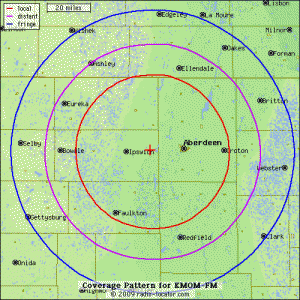 107.7 KABD-FM 
107.7 KABD-FM plays the biggest hits spanning the past 40 years along with an even bigger dose of entertainment designed to target the coveted 25- to 54-year-old audience
We were the first station in the market to stream programming 24/7. Listen to the stream by clicking on the "Listen Live" link at www.dakotabroadcasting.com
We area also very proud to cover the Presentation College Saints football as well as men's and women's basketball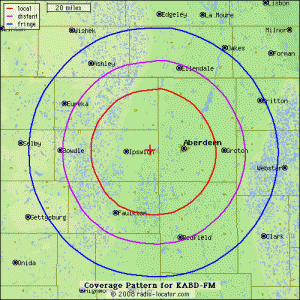 Dakota Broadcasting does not discriminate in the sale of advertising time, and will accept no advertising which is placed with an intent to discriminate on the basis of race, gender or ethnicity. The Advertiser hereby certifies that the above advertising/air time is not being purchased for any discriminatory purpose, including but not limited to decisions not to place advertising on particular stations on the basis of race, gender, national origin or ancestry
HOW to get Your Business/Organization/Project/Event on the Radio
1) News Story
A legitimate news story.
Local content/interest/connection.
Local contact (name & phone number).
No release restrictions.
We will probably rewrite for brevity.
2) PSA (Public Service Announcement) / Non-Profit
A public service announcement is for events that a non-profit organization puts on that is for the greater good of the community. The announcement will go into a rotation with the other announcements but there is no guarantee how many times they run.
You can also purchase ads at a discounted rate if you are a legitimate "non-profit", we will bonus you 1 ad for every 1 that you buy. You will work with one of the sales reps to design your message and build a custom schedule.
3) "In-Studio Guest"
We put you on the air "LIVE" on "In Touch" at 7:35 Monday – Friday on both KABD and KMOM.
This is a Free service
4) Paid Advertisements
Branding Campaigns
Event Marketing
Sponsorships
Sports coverage
605-725-5551 / FAX 605-725-5553
Mailing address: Dakota Broadcasting LLC
426 North Highway 281
Court Yard Suites #4
Aberdeen, SD 57401