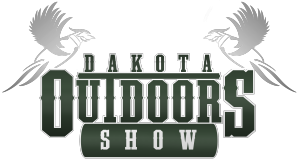 Brown County Fairgrounds
Aberdeen South Dakota
September 23rd, 24th & 25th, 2016
Show Times:
Friday September 23rd – 10am – 7pm
Saturday September 24th – 10am- 7pm
Sunday September 25th – 10am – 5pm
Our entire team is proud to produce  the 1st ever "Dakota Outdoors Show" located in Aberdeen SD. 
Aberdeen, South Dakota is centrally located between North and South Dakota offering world class hunting, fishing and recreation opportunities. The Dakota Outdoors Show is the geared to speak to the outdoors enthusiasts. Aberdeen, South Dakota is rated as the Top Marketing Territory for hunting, fresh water fishing, and related products and services. It's simple… Set up shop where the sportsmen come to buy! Whether it's hunting, fishing, vacationing, or motor sports this show will bring out all enthusiasts. This won't be like some other shows, our vendors will be very specific to the interest of the outdoor enthusiast. 
We all learned to hunt where the birds are and fish where the fish are biting. We believe the Dakota Outdoors Show will service an untapped market for people looking for this very same thing. We suggest you set up at our sports show to reach these potential clients! The Dakota Outdoors Show brings together industry partners featuring manufacturers, outfitters, seminar speakers, vacation destinations, and don't forget great entertainment for the whole family. Don't forget to bring your four-legged hunting partner. Pets are welcome and encouraged! The Dakota Outdoors Show is like nothing else in South Dakota!
Dakota Broadcasting & Hunt Fish SD Teams
For any further questions please call 605-725-5551 and visit with one of our Sales Reps.
Dakota Outdoors Show Features and Seminar Speakers Include: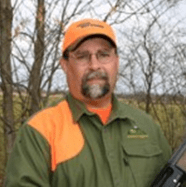 Tom Poorker
Friday, Saturday and Sunday
Seminar 12:00 pm
Gun Dog Training with Tom Poorker
Website: Focus Outdoors TV
Tom owns and operates Midwest Gundog Kennels in Foreston, Minnesota. With over 30 years' experience, Midwest Gundog Kennels is one of the longest tenured gun dog facilities in the Midwest. He has trained dogs to titles in AKC hunt tests and field trials (pointing dogs), NASTRA, NAVHDA and several hunting titles.
In addition to training, Tom does speaking engagements focused on gun dogs. He has presented at Game Fair in Anoka, Minnesota from 1997 through the present, Pheasant Fest from 2003 through the present, and numerous other seminars at dog clubs, sporting goods stores and other dog events. He also attends events including The Northwest Sport Show, St. Cloud Sport Show and others in Duluth, Minnesota and Fargo, North Dakota.
Tom will speak about gun dog training tips and technics. Tom is an accomplished trainer and host of Focus Outdoor TV.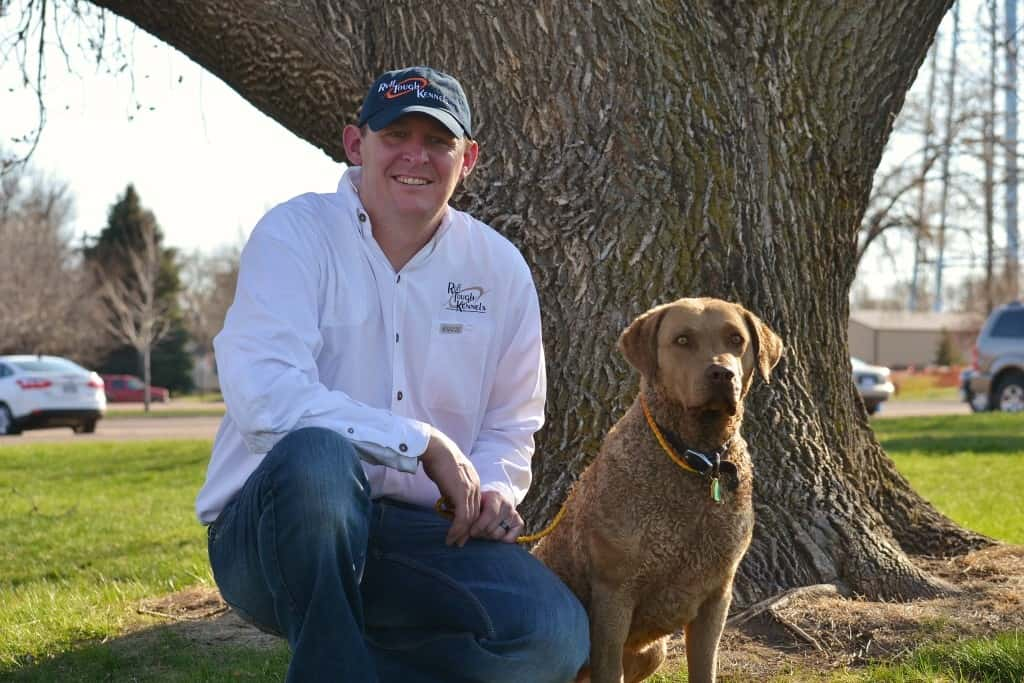 TJ Greer
Friday, Saturday and Sunday
Seminar 3:00 pm Traveling with Your Gun Dog with TJ Greer
Websites: Prairie Fire Chesapeake Retrievers
Ruff Tough Kennels
Well most business websites have a typical "about us" page that normally tells you how the business got started and all about their employees. Well Prairiefire isn't your typical business. We are just a normal couple originally from western Nebraska, and yes cornhusker fans, that love dogs and hunting. We both grew up hunting as kids and always had a dog of some sort in our families. TJ and his brother always had several dogs/labs and trained them to hunt. I have had several breeds over the years, but always been extremely fond of all pointers, mostly Britney's.
So to move on, about 6 years ago is when TJ's hunt for the right Chesapeake began. Several phone calls, lots of web searching and MANY emails later we found Kim and Dave Peckman/Spinnaker Ridge out of KS; and so our Chessie life began. Kimber has stolen the show, from AKC show title to HRC hunting titles along with falling in love with several professional photographers and dog handlers.
TJ will give seminar training on the best way to handle and travel with your gun dog.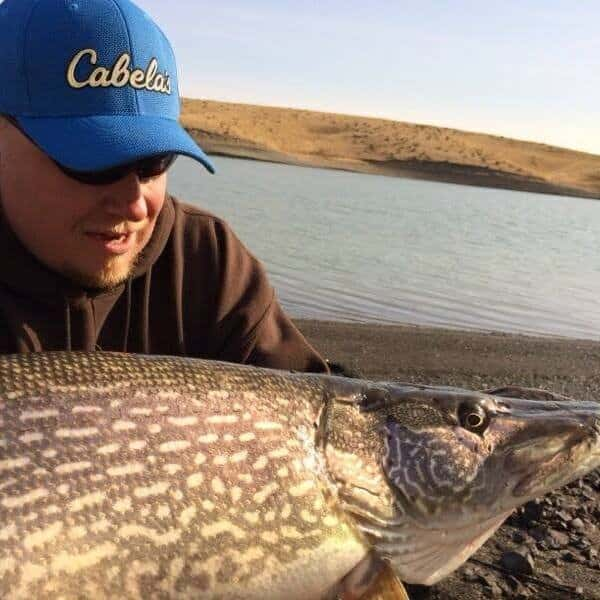 Chris Hull
Friday, Saturday and Sunday
Seminar 4:00pm Chris Hull with the South Dakota Game Fish and Parks, and South Dakota Tourism
Chris Hull is a native of Sisseton. He grew up outside of town, just a quick horseback or three wheeler ride from Drywood Lake. He spent his childhood years fishing out of his grandpa's 14 foot aluminum Lund, prowling Lake Traverse, Buffalo, Red Iron and Clear Lakes or hunting diver ducks and pheasants with his dad and uncle. Hull attended both the Universities of North and South Dakota, earning a bachelor's degree in English. Chris worked for the Department of Tourism for 10 years handling journalists and filmmakers. For the past 10 years, he has worked for the South Dakota Game, Fish and Parks Department as a communications specialist, shooting video, photos writing department content and messaging and handing other public relations.
Chris has a wife, Melissa, an 8-year-old daughter Charlotte, a chocolate lab and a golden doodle. His family loves to fish and spend time on the Missouri River. Not the most driven of big game hunters, mule deer "tip him over" and he would rather ice fish for panfish than just about anything. He also spends around 20 days a spring chasing big pike on the shores of Lake Oahe.
Chris Hull will feature question and answer sessions with the help of the South Dakota Game Fish and Parks and South Dakota Tourism. Chris is an avid sportsman. He truly knows the questions that a weighing on sportsman's minds concerning the outdoor and the future of hunting and fishing in South Dakota.
Patrick Flanigan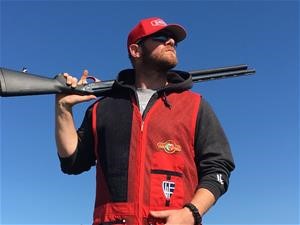 Friday, Saturday and Sunday
Seminar 2:00 pm
Saturday and Sunday
1:00 pm Shooting Exhibition
Patrick Flanigan
Nine Time World Record Holder Exhibition Shooter
Patrick has traveled the world for fifteen years now performing over a thousand live exhibition shooting shows and entertaining audiences of all ages. He currently holds nine world records in exhibition shooting and has starred in "Winchester Legends" on the Versus Network, "Shell Shocked" on the Sportsman's Channel, "Hot Shots" on NBC Sports Outdoors, "Impossible Shots" on the Outdoor Channel and Player Style Files on CBS Sports.
Flanigan's passion for entertainment started at the age of six years old when he began playing drums and was also introduced to shooting. Flanigan's drive to define his gifts and talents would eventually see him onto the main stage of many venues for both music and exhibition shooting.
Flanigan currently resides in South Dakota and is proudly endorsing Breda Shotguns and Fiocchi Amunition. He has a new live show tour that will kick off at the "Shot Show" in January 2017.
For further information on Patrick Flanigan's records, television shows or live shows visit him online at www.PatrickFlanigan.com or www.Facebook.com/flaniganxtremeteam
 Duck and Goose Calling Contest 2:00 pm on Saturday
Sponsored by
RC Hunting Store of Aberdeen, South Dakota